Product: Aquagear Pitcher
Type: 5 Stage Water Filter Pitcher
Product Warranty: Lifetime Guaranteed
Suitable For: City Water Source, Rented Apartment
Reviews by Existing Customers

Filtration Effectiveness

Quality Of Product

Maintenance and Replacement

Cost Effective (Price/Value)
Summary
Although Aquagear is not as well known to the public, the filtration capability is way better than the traditional pitcher brands such as PUR and Brita. It comes with a lifetime warranty which eliminates the concern of breaks and leaks of the pitcher. It is our most RECOMMENDED water pitcher!
---
Background
Aquagear is a relatively new water filter company which was started up by several engineers in providing quality and affordable option on water treatment.
It has two water treatment products under its belt. Their products are widely used in US and UK Army as well as NGO such as UNICEF and Red Cross
---
Aquagear Water Filter Pitcher Review
Aquagear started off in to solve a common problem on the current water filter pitchers, the ineffective filtration quality. Due to the size limitation, most pitchers such as Brita and PUR tend to remove just a handful of contaminations.
Worst still, some filters are merely scratching the surface in removing contaminants. That is why Aquagear comes into rescue.
How Well Does it Filter?
OVER 89 CONTAMINANTS REMOVED: While conducting the test on a third party laboratory for the NSF Standards 42 and 53, Aquagear is confident to share on how well does it filter works. It is capable of removing the following contaminants.
Chlorine (99.9%)

Chloramine (99.9%)

Chromium 6 (99.4%)

Lead (99.9%)

Mercury (97.8%)

Arsenic (99.8%)

Copper (99.7%)

Over 50 VOCs including trihalomethanes (99.0%)
LEAD LEVEL TESTING: On a separate test in Flint, Michigan, the water pitcher is able to reduce Lead levels from 4 times above the EPA limit to an undetectable level.
HEALTHY MINERAL REMAINS: While removing toxic materials from the tap water, the filter will not remove healthy minerals such as Calcium and Magnesium.
NO ORGANIC MICROORGANISM: No filtration on organic microorganism as this product is designed for microbiologically-safe drinking water.
What Is Inside The Filter?
As claimed by Aquagear, its filtration cartridge filters 2000% more contaminants than Brita. It comes with a five stages filter which contains two separate filtration media.
ACTIVATED COCONUT CARBON:
 As water passes through the carbons media, it traps and absorbs bad contaminants from the water source. These contaminants include chlorine, bad taste, and odor.
CRM ION EXCHANGE MEDIAS: 
This media is proprietary by Aquagear to effectively remove heavy metals, industrial and agricultural pollutants.
Aquagear uses a few unique approach for filtering such as chemical bonding, depth filtration, and absorption. By layering the 2 materials into 5 stages, filtered water is having greater taste compare to other water pitchers.
Capacity and Design
8 CUPS CAPACITY: Aquagear only has one size for its water pitcher. The pitcher is capable of the filter up to 8 standard cups of water in a single refill.
PREMIUM DESIGN: Aquagear claims that their pitchers are built with premium quality and environmentally friendly material. It is 100% recyclable, 100% BPA-free and 100% FDA-approved food grade materials.
LIFETIME GUARANTEED: Aquagear is so confident in their product's quality that they even give a lifetime guaranteed against breaks and leaks on their pitcher. You will get a replacement free of charge.
MADE IN US: All Aquagear product is design and manufactured in the US to maintain the premium quality standard.
Maintenance and Replacement
Most of the water pitcher has a lifespan of 40 gallons or up to 2 months when replacement cartridge is needed.
Aquagear's cartridge, on the other hand, was built using excellent quality. It can produce up to 150 gallons of filtered or up to 6 months because a new cartridge is needed.
This amount is 3 times greater than Brita and 4 times greater than ZeroWater pitchers.
Annual Maintenance Cost: $80
Although the filter cartridge is slightly expensive than other water pitches, the number of contaminations that were removed is 2000% more!
What's Positive and What's Negative?
PROS
+ Filter as small as 2 microns.
+ 2000% more contaminations than traditional pitchers.
+ Portable and handy design.
+ Certified by NSF against ANSI Standard 42 and 53.
+ Long lifespan Filters.
+ Lifetime warranty against breaks and leak of the pitcher.
+ Design and Manufacture in the US.

CONS
– Slightly more expensive than the usual pitcher.
– Doesn't come with different size to fit other needs.
– Flow rate is slightly slower than Brita.
– Not suitable for water source which is contaminated by microorganisms.
– No time indicator for the replacement.

---
Verdict:

Recommended!
Expert View:
The Aquagear pitcher is an above average water pitcher that is available in the market. These are the 4 reasons why you should buy from Aquagear instead of Brita:
Great Filtrations: The pitcher filters off most of the major contaminants such as fluoride, chlorine, lead, mercury and 80 over contaminants leaving only the excellent filtered water.
Small Micron Rating: The filter is capable of removing particles which is larger than 2 microns.
Rigorous Test: It is tested rigorously in the independent laboratory against NSF International standards ANSI 42 and 53.
Lifetime Warranty: Have a peace of mind on breaks and leaks on the Aquagear pitcher as it is all covered by its lifetime warranty. Replacement is free of charge.
Where Can I Buy It?
Check the latest price on my number one online trustworthy store, Amazon.
Aquagear Water Filter Pitcher, Clear.
Click on the button to get the recently updated price and find out the reviews of the product by all happy customers.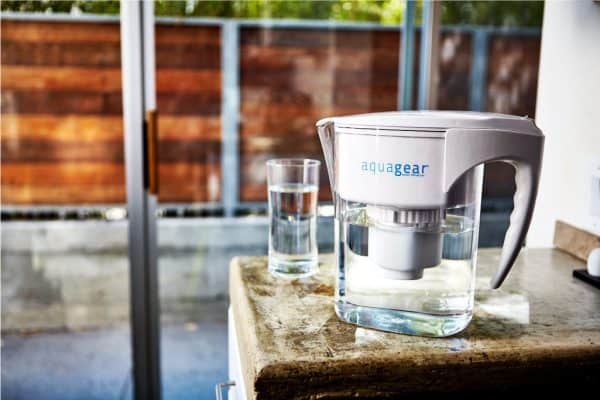 ---
More Info and Question
The Aquagear water filter pitcher has received great ratings from it's existing customers. Here are some of the comments from those happy customers.
"The water filter is excellent and tastes neutral (as it should)." – Vash

"As a pregnant woman, the amount of bad stuff that this filters out is incomparable to typical filters such as Brita and makes it worth the purchase" – C

"There's a noticeable difference in the taste of the water. It has been so convenient to use. " – Ben
Still having doubts on the Aquagear water filter pitcher? Leave us a question in the comment below and we will get back to you at our earliest. I would love to hear what you think about this pitcher.